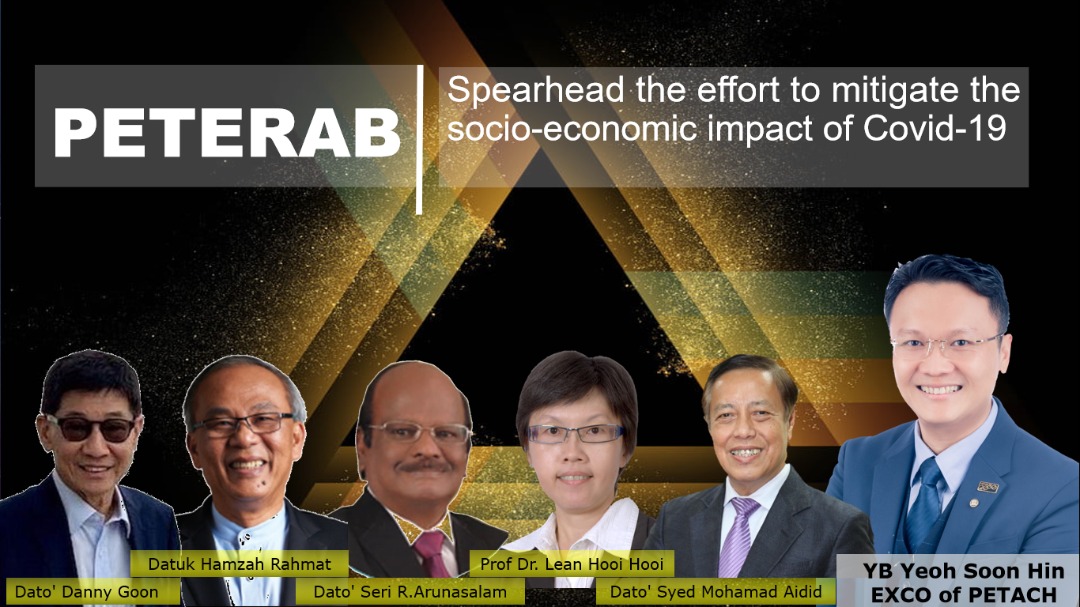 PENANG STRENGTHENS COMMITMENT TO TOURISM RECOVERY THROUGH PETERAB ESTABLISHMENT
GEORGE TOWN – Penang State EXCO for Tourism, Arts, Culture and Heritage has set-up a Penang Tourism Economy Recovery Advisory Board (Lembaga Nasihat Pemulihan Ekonomi Pelancongan Pulau Pinang).
The advisory board, with abbreviation PETERAB, will spearhead the effort to mitigate the socio-economic impact of Covid-19 through policy-level recommendations to accelerate recovery, support jobs and economies and increase tourism receipts and Foreign Direct Investments (FDI).
Yeoh said the process of re-opening and recovering tourism would be a competitive process.
"In the effort to ensure that Penang takes the lead in the state tourism economy recovery efforts, the Penang Tourism Economy Recovery Advisory Board or Lembaga Nasihat Pemulihan Ekonomi Pelancongan Pulau Pinang is established.
"The advisory board will be working alongside with 'Pasukan Kerja Next Normal Pelancongan Pulau Pinang' (Tourism Penang Next Normal Taskforce), whereby PETERAB serves to propose economic considerations and financial actions aimed at restoring Penang tourism as an economic powerhouse; while Tourism Penang Next Normal Taskforce guides the transition towards the 'next norm' to ensure enhanced safety and security of tourists and employees," said Yeoh, who is chairing the PETERAB.
"PETERAB will assess the quantitative and qualitative impacts of Covid-19 on the tourism sector and be preparing recommendations for economic recovery and formulate sustainable strategies and innovative circular approaches to the tourism economic recovery by strengthening linkages along the tourism value chain. "
Yeoh said five prominent individuals selected to serve the advisory board are based on their experiences and expertise namely (named in no particular order) Y. Bhg. Datuk Hamzah bin Rahmat, Y. Bhg. Dato' Seri R. Arunasalam a/l V. Ramasamy, Y. Bhg. Dato' Syed Mohamad Aidid bin Syed Murtaza, Y. Bhg. Dato' Danny Goon and Prof Dr. Lean Hooi Hooi.
"Both Datuk Hamzah and Dato' Syed are prominent individuals in the tourism industry, while Dato' Seri Arunasalam, Dato' Danny and Prof Dr Lean have strong background on economic and business development," said Yeoh.
With 40 years' experience in the travel industry, Datuk Hamzah has held various leadership positions across tourism associations including Malaysian Association of Tour and Travel Agents (MATTA) and Federation of ASEAN Travel Associations (FATA) and ASEAN Tourism Association (ASEANTA). He was the past President of FATA from 2016 to 2018, Secretary-General of ASEANTA from 2015 to 2017. He was also the past President of MATTA and currently serves as Head Task Force, International Affairs, continuing in networking with regional and international travel trade associations and groups.
Dato' Seri Arunasalam, who sits on the board of many government agencies and private limited companies, is a community leader also known as the President of Penang Justice of Peace with strong network in various businesses and social organisations. He has the expansive corporate networking in India, China, South Africa and etc.
Dato' Syed Mohamad has over 51 years of vast experience in the business, corporate and entrepreneurial exposures including in tourism where he heads the Penang Tourist Centre Bhd. He is also the advisor to various notable organisations and associations in Malaysia. Dato' Syed Mohamad was the Chairman of DRB HICOM Berhad and currently sits on the boards of Yayasan Bumiputra Pulau Pinang Bhd.
Dato' Danny Goon is a fellow of the Association of Chartered Certified Accountants and a chartered accountant who is serving various international organisations. He was the Audit Professional with Coopers & Lybrand (now Price Waterhouse Coopers) and Managing Director of Kennedy Burkill & Company. Currently he is also serving on the boards of Malaysia International Chamber of Commerce and Industry Penang and Northern Branch, Penang Futures Foundation and Penang Global Tourism.
Prof Dr Lean is a Professor of Economics at the School of Social Sciences, Universiti Sains Malaysia with strong knowledge on economics, authoring more than 150 scholarly articles and academic book chapters as well as a speaker and consultant to the private sector, government agencies and non-governmental organisations. She also served as a post-doctoral visiting scholar to the Department of Economics at Monash University, Australia and also visiting scholar to a number of prestigious international universities in Taiwan, Korea, New Zealand, Germany and France. Prof. Lean is the Top Research Scientist Malaysia by Academy of Science Malaysia in 2018 and a Fellow of East Asian Economic Association.