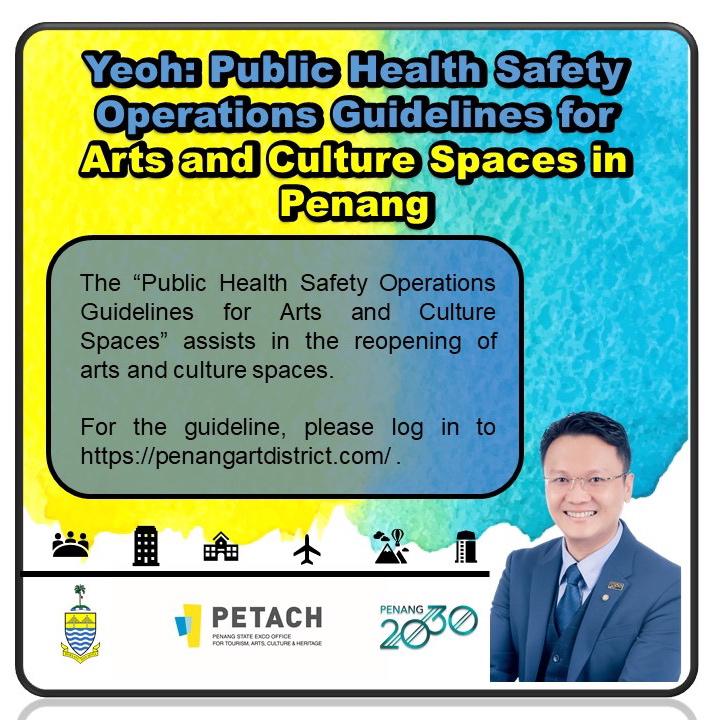 Yeoh: Public Health Safety Operations Guidelines for Arts and Culture Spaces in Penang
George Town, Penang – The Penang State EXCO for Tourism, Arts, Culture and Heritage YB Yeoh Soon Hin have released the "Public Health Safety Operations Guidelines for Arts and Culture Spaces" to assist in the reopening of arts and culture spaces according to the public health guidelines provided by the Federal Government.
"So far Penang is the first state in Malaysia who came out with this guideline."
He said these guidelines are key considerations to help arts and culture organisations make decisions about operations and programming while the pandemic persists.
"The arts and culture sector are among the most affected by the COVID-19 crisis, with many public events and activities cancelled or postponed due to the national Movement Control Order (MCO).
These guidelines are not intended to be exhaustive or comprehensive in scope and not every consideration will apply to every organisation. We encourage arts and culture organisations and practitioners to use these guidelines as a foundation for their plans and adapt to their specific needs in implementing mandatory public health guidelines."
He said the document provides information that is currently recommended and/or mandated as of the date of issuance.
"Please note that this is a working document that will be updated regularly to reflect changes in state and federal guidelines related to the COVID-19 pandemic change.
I hope the information outlined here will be beneficial in helping arts and culture operators develop their plan for your organisation. I urge arts and cultural organisations to prioritise the health and safety of their employees, artists, contractors, volunteers and audiences when determining whether to engage the public with physical and in-person programming and performances."
He also encouraged the public to continuously support our arts and culture practitioners and groups by attending their online programmes, spreading the word about their work and efforts, donating to their fundraising campaigns."
For "Public Health Safety Operations Guidelines for Arts and Culture Spaces", please log in to https://penangartdistrict.com/