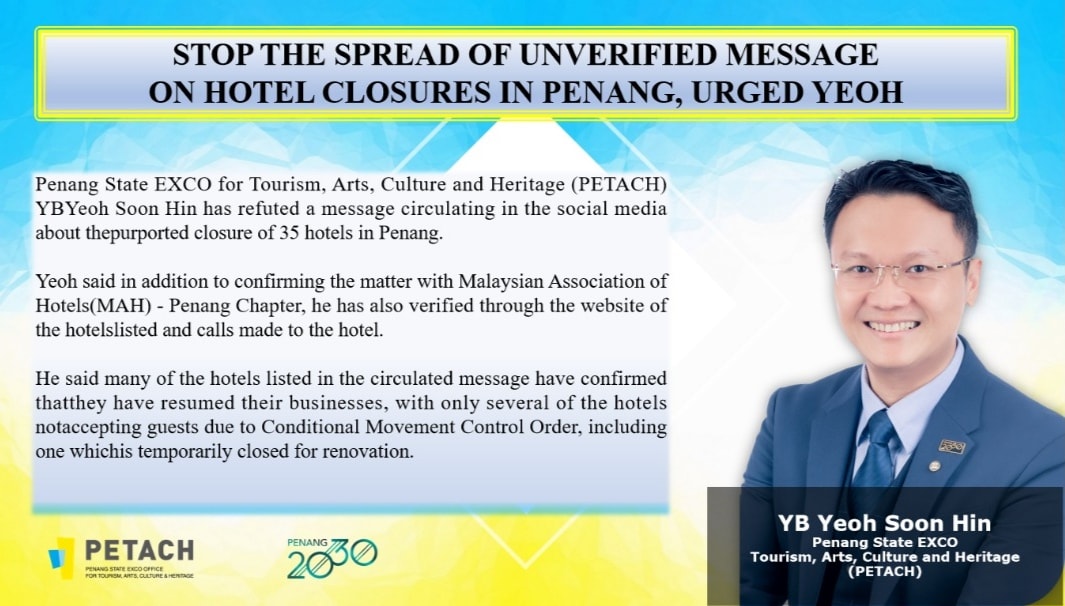 STOP THE SPREAD OF UNVERIFIED MESSAGE ON HOTEL CLOSURES IN PENANG, URGED YEOH
GEORGE TOWN – Penang State EXCO for Tourism, Arts, Culture and Heritage (PETACH) YB Yeoh Soon Hin has refuted a message circulating in the social media about the purported closure of 35 hotels in Penang.
Yeoh said in addition to confirming the matter with Malaysian Association of Hotels (MAH) – Penang Chapter, he has also verified through the website of the hotels listed and calls made to the hotel.
He said many of the hotels listed in the circulated message have confirmed that they have resumed their businesses, with only several of the hotels not accepting guests due to Conditional Movement Control Order, including one which is temporarily closed for renovation.
Yeoh said Jazz Hotel Penang, which is one of the hotels listed, would reopen for business this August as confirmed through its official website.
"This is not the first time these messages were circulated through social media and messaging platforms.
"It would come to affect the hotels and cause unnecessary panic among the employees, at a time when the hotels are rebuilding and re-opening. Fighting off fake news would cause unnecessary additional burden to the hotels.
"Please refer only to verified news sources, and be responsible against forwarding and sending unverified information," stressed Yeoh.
Yeoh believes that the tourism industry will pick up gradually once the situation with the pandemic improves.
He said the state government is actively making plans to recover the tourism industry post Covid-19 including assistance package and the implementation of various preventive measures to curb the spread of Covid-19.
"At this time, we need to stay strong in solidarity to recover and rebuild Penang tourism once more," he said in a statement today.